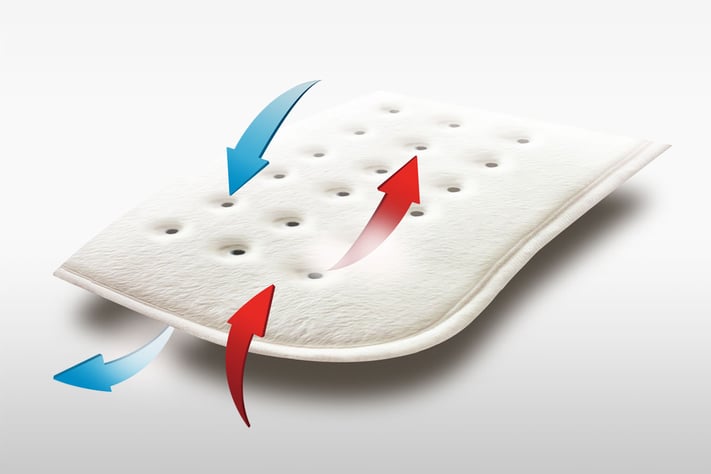 Warmth has long been associated with comfort and safety. It has helped people throughout the years to do tasks that are essential to their survival such as cooking, seeking shelter, or keeping the dark and wild beasts away.
With today's technological innovations enabling us to control temperature at will, warmth has become a tool that allows us to do what we want more efficiently - whether it be for necessary tasks such as heating up pizza, or even leisure activities like hot baths.
Due to the comfort it brings us, being in a warm environment helps us function better. This goes for all our activities, even ones we do at rest, like sleeping. Interestingly, as warm-blooded creatures (or endotherms), we humans tend to experience our biggest body temperature drop the moment we nod off.
If you live anywhere with a cold climate, then you are probably already familiar with health and personal-care products such as electric blankets and heating pads. These warming products can make it much easier for anyone to fight the cold through harsh winters.

Flexible heating products such as electric blankets and heating pads have been on the market for a long time. So what's so special about these new 4D warming products? Read on to find out.
What is 4D Dynamic Warmth Flow? (4D DWF)
4D Dynamic Warmth Flow is a new technology used in electric underblankets, heating cushions and heating pads that brings you ultimate warmth and comfort. When you look at a 4D DWF product, the first thing you will notice is that there are lots of holes.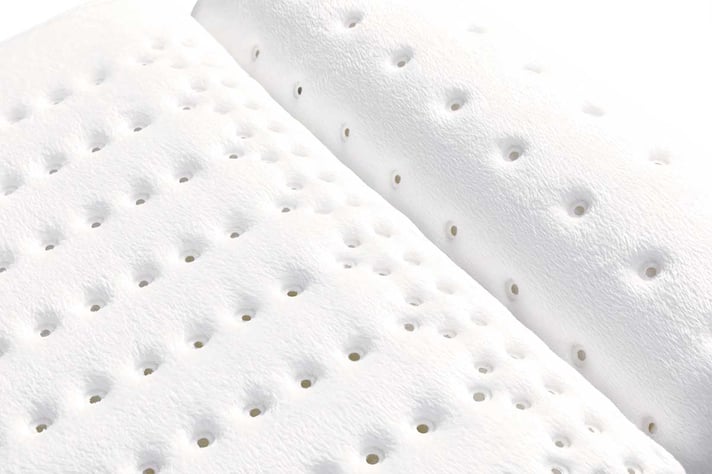 This is what a product made with 4D DWF technology looks like
These holes are what makes 4D DWF technology unique. Unlike traditional flexible heating products (such as an electric underblanket) that release heat only through extremely tiny gaps in woven or non-woven pieces of fabric, 4D DWF technology pierces many holes in a fabric, allowing the heat to escape.
The technology focuses on the 4th dimension, which refers to the dynamic warmth flow that is created as heat is released from the holes and merges with cold air.
Unlike ordinary flexible heating products that are only warm when your skin is in direct contact with them, products with 4D temperature technology can deliver warmth more efficiently to create a comfortable temperature around you.
By using specially designed 4D circular holes, heat circulates within every four holes to form an independent 4D matrix space. Each independent 4D space is then connected to one another so warmth is retained effectively.
The result is a product that provides better warmth, comfort, and breathability.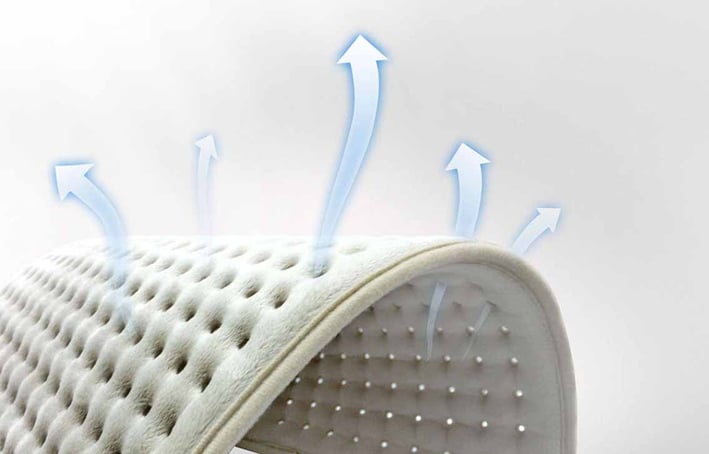 4D DWF Dynamic Warmth Flow provides 150% better breathability than other ordinary flexible heating products on the market.
So what exactly does a 4D dynamic warmth flow feel like? Well, if you put your hand close to the fabric, you will feel heat waves being released from the holes. The warm and moist heat feels very different from the dry heat seen in traditional electric underblankets. It's hard to explain the comfortable feeling generated by 4D DWF technology, but many people fall in love with it as soon as they try and experience this new technology.
Warmth and Sleep
Before we talk about warmth and sleep, let's first define how you actually end up falling asleep. To put it simply, your core body temperature lowers when you fall asleep - the process of your body decreasing in temperature is what gets your body to fall asleep.
As you may expect, the environment in which we fall asleep plays a lot to the science of how this works. For those in more frigid temperatures or those who need to use air conditioning, warmth is necessary for a good night's rest. The warmer it is, the easier it is for us to fall asleep.
This is where your conventional heating blanket or electric pad comes in - a straightforward solution to the question of falling asleep in a cold environment. Accessible to almost everyone by the simplicity of the design and use, heating blankets are common - but also of common design.
Not all heating blankets are made the same - some heating blankets are better than others and some have 4D DWF: an innovation that brings even better warmth and comfort to sleepers.
The 4th Dimension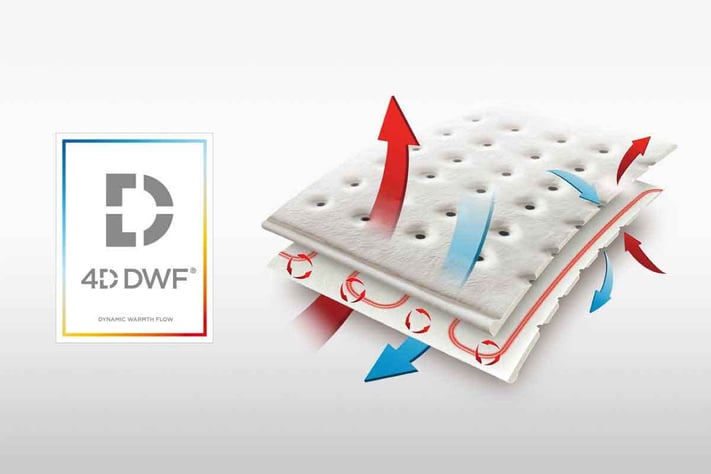 Heat generated in electric blankets or heating pad are released through the holes. As heat merges with cold air, it generates a comfortable moisturized warmth flow.
4D Dynamic Warmth Flow is designed to give the best levels of warmth and comfort to the sleeper, while still keeping the essential elements of what makes a good heating blanket:
Dimension of warmth: the comfort experienced by the sleeper is the primary goal of the 4D DWF system. All the elements from construction, use and effectivity of the blanket create a soothing environment for the sleeper, gently guiding them to sleep and helping them rest better.



Distribution area: most heating blankets are limited by their material and construction. As a result, this often creates an uneven distribution of heat, ruining what would otherwise be a blissful slumber. The 4D DWF system surpasses this limitation by using high quality materials and a matrix welding design to ensure an even spread of heat.



Breathability: finally, the design of the 4D DWF allows for more efficient airflow, allowing heat to move in and excess heat to disperse.
All these features combined make the 4D DWF heating blanket your exclusive bed climate, allowing you to feel much more comfortable and adjust the temperature as you will, giving yourself a more restful sleep.
The advantages of a warm sleep are plenty: it benefits the mind, revitalises the body and prepares you for the day ahead. With innovations such as 4D DWF technology, getting a good night's sleep isn't just something you dream about anymore.
Are you interested in learning more? If you have two minutes to spare, we strongly encourage you to watch this video that explains 4D DWF technology in detail.
Why does 4D DWF have the potential to be a market changer?
Contrary to popular belief, simply having great features doesn't make a product successful. The following reasons are why products with 4D temperature technology have great potential to be the next big hit.
Improve your sleep quality
4D DWF helps our body breathe naturally while asleep, it is very comfortable and you won't feel stuffy at all. This technology does not require additional electricity, nor does it require complicated installation process. 4D DWF simply solves the problem of too dry or too stuffy with the holes pierced through the fabric. Each set of 4 holes forms a matrix, providing 360 degrees of surrounding heat.
4D DWF uses the simplest yet the most effective way to solve the problem of electric blankets feeling too stuffy over a long period of time!
The perfect solution to existing electric blanket problems
Better breathability - Our skin is one of the most important system that helps our body detox. An average adult who sleeps for 7-8 hours can easily lose 300 - 450 mL of water every night. Therefore, it is important for our skin to breathe and detox naturally. Try not to make your body feel too stuffy at night and keep your metabolism at a normal rate, you will feel more comfortable and get a better night of sleep.
Original/unique with innovative design - There is nothing similar on the market right now and its design and technology are completely unique, which gives it a competitive edge.
High quality product - Flexible heating products with 4D temperature technology require sophisticated techniques and exquisite fabric to produce that unique heat-circulating mesh. Therefore, these products are definitely very high in quality.
Why use 4D Dynamic Warmth Flow technology?
Even on the coldest winter night, when the temperature is well below freezing, and the wind is howling outside your window, you can be snuggly warm without the weight of multiple covers just by adding one electric blanket or mattress pad to your bed. Not only do they keep you comfortably warm, by allowing you to drop your thermostat several degrees at night, they also save you a considerable amount of money in energy costs over the course of the winter.
But are you aware of what kind of electric blanket you need? Are you still using electric blankets that provide dry heat, or those unable to conserve heat? Are you still experiencing the feeling that only a part of your body is hot while others are not? If your answer is yes, you'd better look at our latest innovation, 4D DWF.
You might have heard about 3D, or you may have watched 3D movies. In our living environment, there are three dimensions: width, length, and depth; hence, the term '3D'. But it sounds like one element is of the essence—WARMTH. That is why Wellcare introduces to you an innovation - 4D DWF Dynamic Warmth Flow, the 'temperature' brought to you by the dynamic flow of warmth is defined as the fourth dimension.
Why do we need this new design? Maybe you have experienced these nightmares: On cold winter nights, you are so afraid of going to the toilet because when you go back to your bed, it will be cold as ice again.
Here is another scenario, after lying on an electric underblanket for awhile, your back starts tingling due to overheating, while other parts of your body are still stiff and stone-cold.
Or perhaps every time you lie on an electric underblanket, you feel the air around you is so hot and dry that your throat is uncomfortable.
If you have ever used an electric underblanket, you probably have experienced one of the scenarios listed above. Don't worry though, 4D DWF technology is the perfect solution to these problems!
Comparing 4D DWF with other so-called breathable products
Being breathable is one of 4D DWF's best features. However, there are many other electric underblankets on the market that label themselves as made with breathable fabrics. What exactly is the difference between the two?
Most electric underblankets on the market emphasise breathability simply because their product is produced by more breathable fabrics.
This is going in the right direction, but is not good enough. On the micro level, the gap between the fabric is still minimal. Therefore, these blankets are only slightly more breathable than traditional electric underblankets. This also means that the heat can't be fully integrated with the air, so you will still experience dry heat.
To improve this condition, 4D DWF creatively incorporates several hundred uniquely designed circular holes in the electric blanket. Consequently, after the heat is generated from the heating element, it will build up and gather around these holes. This brings better comfort and breathability to our products.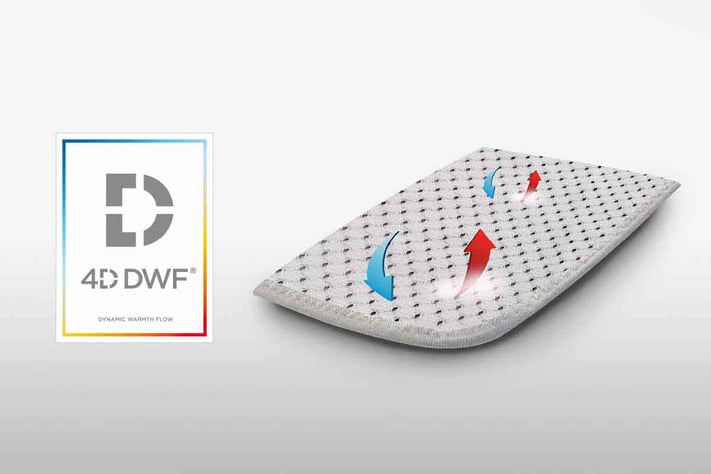 The heating module is also equipped with 4D DWF Dynamic Warmth Flow. The uniquely designed circular holes provide a 360 degree air circulation, excellent breathability and helps distribute heat evenly.
Statistically, 4D DWF is approximately 150% more breathable than ordinary blankets! By using this technology, our heating series can transmit heat by utilising uninterrupted dynamic warmth flow circulation, warm but moist.
People usually ask, does moist heat work well in humid atmospheres such as in the Netherlands, United Kingdom or Spain? The answer is YES, definitely! The heat generated from electric underblankets can actually dehumidify your bed.
How was the 4D DWF technology derived?
Long ago, before 2011, we started developing this product from scratch. We've also invested a lot of time and money into this project.
In the beginning, we worked to solve the problem of heat storage in electric blankets. Consumer complaints prompted us to develop better electric underblankets. Without realising it, we have been working and slowly optimising the product for more than eight years.
Many consumers unfamiliar with our technology probably think that it is simple to create a few holes in the blanket. In fact, it is not. It is essential to consider the fabric characteristics of the electric blanket. We must ensure it delivers comfort, a sense of design, and an ability to survive the washing process.
When we first started to design 4D DWF technology, we did not even have the equipment to make holes. After making a sample model of a 4D DWF prototype, our next challenge was the mass production problem. Furthermore, in order to invent the best technology, we have to dedicate a tremendous amount of time to study material science thermodynamics, heat conduction, and air convection.
Is 4D Dynamic Warmth Flow the future standard?
At present, we are the first in the world to use 4D DWF technology in the flexible heating industry. However, I am convinced that in future this new technology will definitely become the new trend.
With the development of science and technology, people's living standards have improved. As our world evolves and progresses, people are becoming more sensitive to high quality products.
They know how to differentiate between good quality and low quality products. Most of us would rather spend a little more money on products and gain a better user experience. People have started to put their focus on product quality instead of price. They would rather use a product that solves their problem and fits their needs.
Try to imagine that you are living in your nice home; you sleep in a relaxing bedroom with a big window. You bought a nice bed, a comfortable mattress, a perfect pillow, a smooth bed sheet and a warm blanket.
You will naturally want to use a comfortable and breathable electric blanket to match your bed right? In this case, 4D DWF electric blankets would be one of your best choice. In other words, it is consumers behaviour that promotes the development of 4D technology.
Come and follow this new trend with us!
4D DWF technology is already being used in Wellcare's flexible heating series including electric underblankets, electric overblankets, heating pads, heating cushions and the 'TO-GO' series which includes mobile heating belts, mobile heating cushions and the mobile heating seat series.
4D DWF - The fifth-generation electric blankets
Electric blankets were invented more than 100 years ago. In the beginning, people just cared about being warm. Then, the second-generation electric blankets focused on safety. As electric blankets continued to evolve, consumers started to put their focus on comfort; this was the main focus of third-generation electric blankets.
Fourth-generation electric blankets focused on eco-friendliness as many people wanted to protect the environment.
The newest fifth-generation electric blankets focus on the senses. As consumers continue to evolve, people start paying attention to details; they begin to demand a product that provides a better user experience and a better sense of feeling. For example, we don't like heat that feels too dry or too stuffy. This is why 4D DWF technology was invented, because we want to offer consumers much improved comfort.
Tips on choosing the best electric blanket for you
First and foremost, safety!
Safety always comes first when you are selecting a product, especially when it is connected to electricity. When you are trying to find excellent quality products, please remember to check if there is precise information about the brand and the production date, and whether it has been verified by prestigious certificate authorities such as the TUV in Germany, KEMA/DEKRA in the Netherlands and the EU, the BEAB in England, and the ETL-UL in America, etc.
Secondly, consumers should carefully choose the materials of the blankets, and you should definitely consider a material with exceptional breathability. This goes directly hand in hand with your comfortability while sleeping!
You are also advised to consider those at a slightly higher than average price. To some extent, being a little expensive means the materials are superior and production process is more meticulous. Buying a top-quality product is worthwhile because getting a good night's sleep is priceless!
We are proud to say Wellcare's electric underblanket is one of the most comfortable product in the world. If you happen to be shopping for a electric blanket, why not give us a try?
Certainly, you should choose a different type of material if you are allergic to specific fabric or materials.
Thirdly, for elders and people who are more sensible to coldness, Wellcare advises you to purchase those blankets that can conserve heat effectively.
Interested in becoming a distributor of Wellcare's 4D DWF products? Click on the link below to learn more about 4D DWF heating blankets - what sets them apart from conventional heating blankets, and the science that comes with creating the next step to sleeping in comfort.