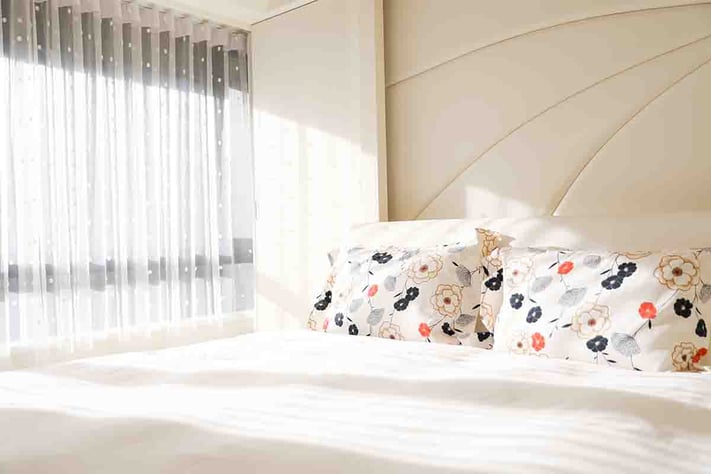 Nothing feels better than crawling into a warm bed in the middle of a cold winter night and then dozing off into a rejuvenating night of sleep. Doesn't that sound exciting?
One of the best ways to stay warm is with the use of electric blankets. Some people use an electric overblanket and some prefer underblankets.
Overblankets are often simply called blankets and when people think "electric blanket" they usually think of these. They match the usual definition of "a separate sheet worn atop your body when you sleep". The electric kind just adds some internal heating wires for heating.
What is an underblanket?
The underblanket, meanwhile, is sometimes called a heated mattress pad or electric fitted sheet. As the names imply, this type of blanket has a fitted skirt that clings to the mattress, holding it in place between you and your bed. Some models come without a skirt and are compatible with different mattresses sizes. These types are overlooked enough that some people think it a lifehack to slip your electric overblanket under a fitted sheet. There's no need for that here, as underblankets have you covered, so to speak.

How do electric blankets work?
Both types of electric blankets have the same basic technology: wires running inside of them generate heat when powered. In most models, that heat can be regulated with a temperature control or a timer. What sets them apart, then, is really in the consequences of their form and placement.
Overblankets go over the body and so, just like conventional blankets, they keep heat—both body heat and the heat they generate—from escaping upward and outward. However, because electric blankets are exposed on one side, that means some of the heat they generate is lost.

Underblankets, meanwhile, provide their heat from below. Because of this, all the heat of an underblanket remains trapped either below, by the mattress, or on top by your blanket. You get more heat retention with an underblanket. Furthermore, because they lie flat against the mattress, it's less likely to bunch up and generate too much heat, which is one of the more common reasons for the problems electric blankets face. However, this limited placement also has some drawbacks, which leads us to the next point.
How do you use an underblanket?
More than the mechanics, what distinguishes the two types of blankets is how they can be used. In other words, how you intend to use them and whether or not they can accommodate that.

The typical case is that people use electric blankets to keep warm while in bed during the night; it's a great way to conserve energy or add a little more comfort when seasons are especially cold. In this case, electric underblankets would be an ideal choice. In fact, underblankets have a higher demand than overblankets in European countries.
One thing to notice is that overblankets can be used in different circumstances while underblankets are only used in bed. A newer innovation, the 2-in-1 electric blanket, can serve both as an overblanket and underblanket. This is a convenient design and it might help increase the market demand for electric blankets.


Although underblankets are more dominant on the market, there are also circumstances where overblankets would work better than an underblanket. For instance, your mattress might be incompatible with an underblanket, either because of a non-standard size or because of its material (i.e. some manufacturers advise against using electric underblankets with memory foam).
Similarly, if you don't sleep on a bed, or plan to use the blanket out of bed—on a couch or futon, perhaps—then an overblanket is, again, the better choice for your situation.
Detailed comparison: electric overblanket vs electric underblanket




If you want to dive in a little deeper into the comparison, we've got a comparison chart for you.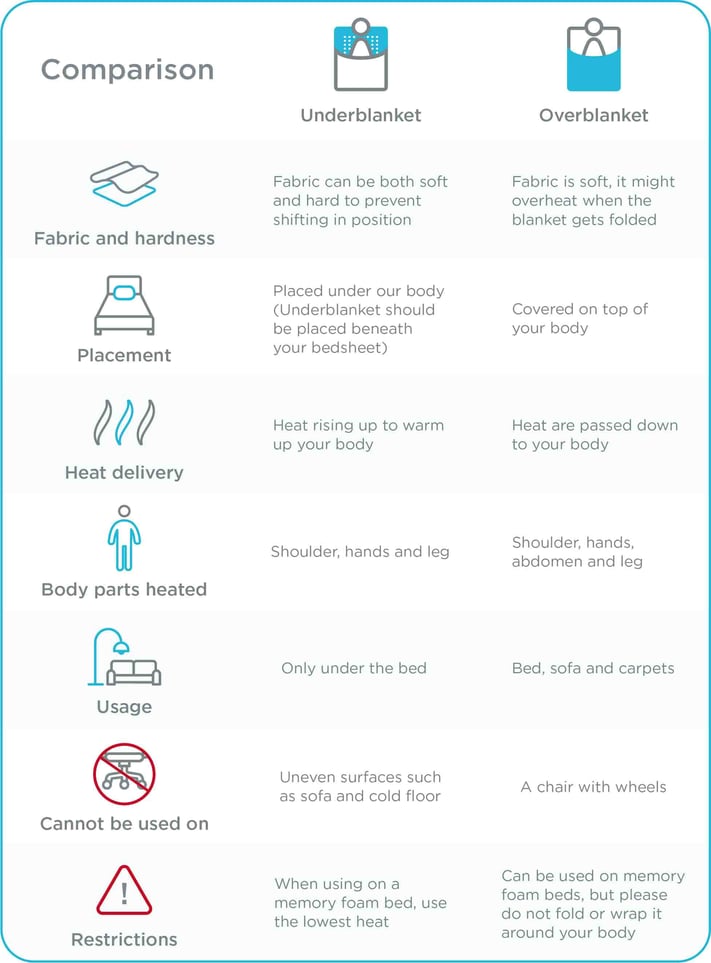 Different brands of electric underblankets are made with different materials, the most common fabric being polyester. When compared with the material of overblankets, the material of underblankets may feel a bit hard. This prevents the underblanket from sliding or shifting in position. There are many different sizes of electric underblankets, ranging from single bed to king bed sizes. You can pick and choose the best size for your needs.
When you are using or putting away an electric underblanket, try not to fold it. This is because the electric wires inside the underblanket might break and potentially cause a fire.
There are fewer usage restrictions for electric overblankets: you can use it on a bed, a sofa or a carpeted floor, and in both daytime and nighttime. It has gained popularity over the years due to it being highly mobile. You can basically use it anywhere at home.
Decades ago, overblankets were usually made of wool and cotton. Nowadays, as home textile technology continues to advance, consumers start to prefer soft and cosy textures made with polyesters.
Polyester has quite a handful of advantages. For example, it is wrinkle-resistant, susceptible to heat, and environmentally friendly. It is the most popular material among electric blanket manufacturers.
The most popular size for an overblanket is the size for a single bed. Remember to not use electric overblankets near a wheelchair or wheeled carts. This is to prevent the blanket from getting run over. The wires inside might break, causing the blanket to malfunction.
Which electric blanket should I choose?
Now, you might be thinking, "Underblankets and overblankets both look good, which one should I choose?" This seems to be a common question asked by consumers. One way we can decide is by reviewing what we need.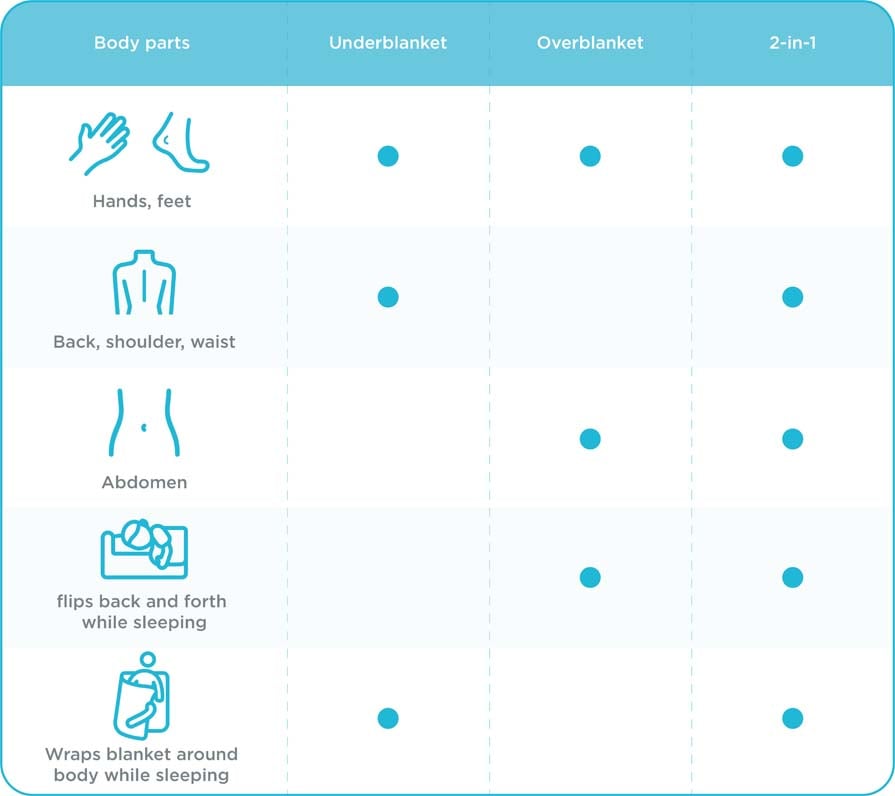 Note: No matter which type of electric blankets you choose, don't fold, wrap or crease it. Folding or creasing the blanket might cause overheating and malfunctioning.
If you suffer from cold hands and feet, underblankets and overblankets are both ideal. According to Footscientific from the U.S., you can choose an underblanket that has an additional foot zone to keep your feet warm throughout the night.
According to a study from Spain, 19.5% of people have neck pain and 19.9% of people experience lower back pain. Another study from Greece shows an estimated 19% of the adult population in Europe experience shoulder pain.
More women experience these types of pain than men. This problem might be derived from sitting for too long at work: a 2013 survey from the EU, conducted in 28 countries, shows 18.5% of Europeans sit for over 7.5 hours daily. This is one of the reasons people experience tight shoulders and sore backs.
A great way to relieve your body tension after a long day of work is to heat your neck, shoulders and back with electric underblankets and overblankets. It is a great way to relax.
When you sleep at night, if you like to hug or wrap the blanket around your body, an electric underblanket would be a smart choice for you. If you flip around while sleeping, an overblanket or an underblanket with straps would likely be a good choice for you as it prevents the underblanket from sliding.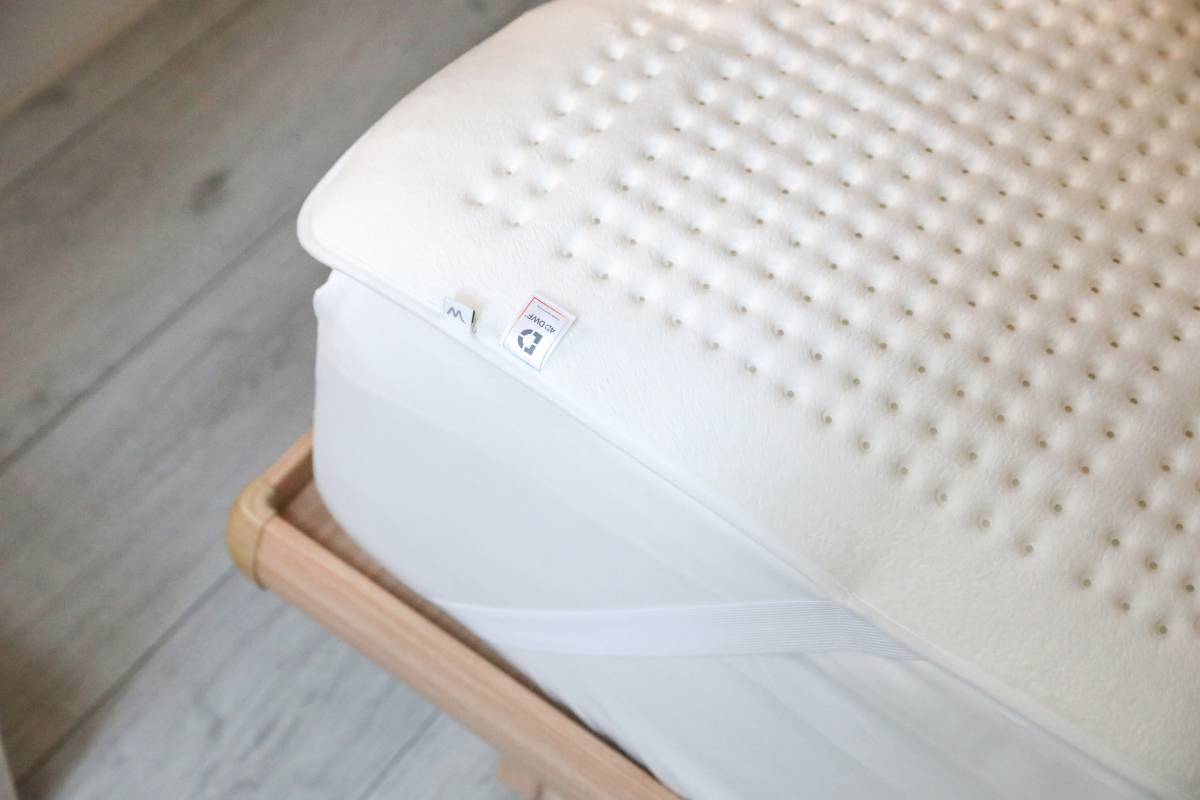 Other than the traditional electric blankets, you can also consider the next generation of electric blankets. Wellcare's 4D DWF electric overblanket is also a 2-in-1 blanket: you can use it as an underblanket on beds larger than 140 x 200 cm.
Wellcare's 4D DWF technology takes comfort to the next level by using an innovative welding technology to hold layers of fabric in place. The wave currents are spread evenly, delivering the best sleeping experience.
You can also use the 2-in-1 blanket to cover your body on the sofa while you watch TV or read a book. We are confident you will fall in love with Wellcare 4D DWF's unique heating experience. The warmth flow coming from the blanket can provide peace and comfort.
Using a 2-in-1 electric blanket
As the design and usability of electric blankets improve over the years, modern electric blankets are safe and easy to use. Before you use the product, we advise you to take a few minutes and read the instructions. This way, you can make sure you are using the product correctly and safely. You can even extend the lifespan of electric blankets. This is why it's important to read our well-designed safety reminders if you are using one of Wellcare's products.

Electric Underblanket safety reminders

Electric Overblanket safety reminders
You will usually find safety reminders like the image above on a box or instructional manuals.
Things to look for when purchasing an electric blanket
Buy a certified electric blanket
When buying an electric underblanket, take a look and see if it passed EU safety certifications. Your electric blanket or heating pad is safe if it is marked with compliance to EN60335-2-17, EN60335 and UL 964. This is also known as the safety mark for KEMA-KEUR, ENEC05, GS, CE and Underwriters Laboratories.
Avoid products with no proper certification as they might cause harm.
Automatic switch-off function
Using electric blankets for too long can be detrimental to your body. If you worry about skin burns when using electric blankets for too long, the automatic switch-off function found in Wellcare's product is a great solution.
Wellcare's electric blanket has a 120-minute timer, and can automatically shut down by itself. Certain Wellcare products can be used all night for up to 8 hours and have the ability to adjust temperatures accordingly.
Overheating Protection System


Wellcare's Active Protection System is modelled after the traffic light system, APS

TM

uses a 3-colour LED display and provides the highest grade of safety precaution. Different colours on the Active Protection System show different warnings.

Green means "Temperature has reached the desired level."
Orange means "Heating up to reach the desired temperature level."
Red means "Possible malfunction or overheating. Turn off the product immediately."
Ability to adjust temperature
Most electric blankets nowadays have the ability to automatically adjust the temperature. Wellcare's electric blankets offer 4 different temperature settings, so you can choose the perfect temperature to sleep to. Feel free to adjust the temperature according to your needs!
Easy to clean
Electric blankets should be easy to clean. After using it for an entire winter, the blanket is probably dirty and needs to be cleaned. Be sure to read the label before washing your blanket, some can only be washed by hand while others can be washed with a washing machine. You should remove all the cables and controllers and put the blanket into a washing bag. Wash the blanket gently with 30° Celsius warm water.
If you want to learn more about cleaning your electric blanket, please read our article on how to wash your electric blanket.
Trends for electric blanket products
After 100 years of electric blanket's history, experience and technology advancement, consumers are constantly looking for more. They want a better sleep experience and are constantly looking for a better product to help them sleep well. As the industry continues to evolve, here are some important features and new trends in electric blankets that consumers are seeking.
High permeability is better
Our core body temperature tends to be higher in the daytime and reaches a peak during evening hours. When we sleep at night, our core body temperature drops down to the lowest point. If your bed temperatures become too hot and humid, your core body temperature will rise. This might cause you to sweat and affect your sleep quality.
Bedding mattress manufacturers are aware of this problem and have tried to solve it with different materials, structure and designs. Wellcare's unique 4D DWF technology allows high air permeability, a new innovation that allows air to flow freely and therefore creates a better sleep environment.
Choosing your Wellcare BBC (Best Bed Climate) design
Ambient temperature is a critical element for all animals, including humans. Temperature causes changes in all creatures' behaviour, it directly correlates with things such as our need for and consumption of food. Therefore, our sleep temperature, known as bed climate, is also important to our health.
A study from the United Kingdom shows an optimal room temperature of 19° to 21° Celsius, while a skin microclimate temperature between 31° and 35° Celsius has a negative influence on our sleep. This means by creating the best bed climate for your bed, it not only delivers comfort but also brings better health.
Another study shows that immersing your body in hot water before going to sleep can help you sleep better. This does NOT mean soaking yourself in a bathtub and immediately going to bed after. You can take a hot bath anytime between 1 to 8 hours before going to bed to improve sleep quality.
All studies point to the fact that ambient temperature, in combination with bedding, is one of the most important factors for a good night of sleep. Temperature is linked to vasodilation, especially in our hands and feet, and can help us sleep well.
The idea of best bed climate warms up your bed, relaxes your muscles and helps you fall asleep faster.
BBC (Best Bed Climate) design warms up our body and relaxes our muscles by increasing our skin temperature through a heated bed.
Wellcare's innovative BBC design derives from Wellcare's 4D DWF (Dynamic warmth flow) which focuses on being warm, natural and breathable. As our core body temperature drops at night, heat accumulated in an electric blanket might be overly excessive. Many people wake up in the middle of the night because their bed is too hot and stuffy. This is a common experience among electric blanket users and it affects their sleep quality.
Wellcare's 4D DWF design is your perfect solution to creating the best bed climate. It brings natural warmth and high permeability to your bed. Our electric underblankets optimize warmth according to your body temperature to deliver comfort.
Hundreds of holes on the surface of the electric blanket allow warmth flow to circulate freely, providing the best temperature and humidity for sleep. Enjoy warmth that's as natural as breathing air, taking comfort to a whole new level.
It is amazing how a small change in temperature can greatly improve your sleep quality. As the consumers' demand for electric blankets evolve, better products will continue to appear on the market.
Low electromagnetic field
The science community holds different opinions on whether a low electromagnetic field (EMF) affects our health or not, especially when it comes to the cases of brain tumours and breast cancers.
No matter what the answer is, Wellcare aims to decrease the electromagnetic field in our products by as much as we can. We are able to significantly lower EMF well below the normal regulation level. The field of common flexible heating products is around 30-80MG, but Wellcare's electric underblanket has less than 5MG in EMF.
We are happy to be able to lower the EMF level in our products and remove anyone's concern about EMF possibly causing harm to our body.
Customers with high sensitivity continues to increase as they seek a better future
For the longest time, electric blankets have had heat loss problems. A few manufacturers knew about this problem and have been working on improving the product. After numerous rounds of testing, they were able to find a solution. They use two different types of materials to produce the electric blanket, one side is made with breathable fabric that quickly passes heat to our body. The other side is made with a thicker fabric that consumes heat. This design is able to reduce heat loss and increase comfort.
While maximising production volume and lowering production cost has always been mainstream for the industrial world, there are still quite a handful of manufacturers that pay attention to extra details and strive to create higher quality products. Wellcare is one of them.
We spend more time and money on designing our products. We treat our products as if they are our good friend. We feel it is important to deliver comfort and happiness to our customers. When mankind blends harmoniously with our living environment, we can create true and unbounded happiness.
Our team members are motivated to make our society a better place by exploring ways to help everyone live better and happier. This includes our focus on health, environmental and child protection issues. We consider these important issues when designing and producing our products.
We believe consumers nowadays choose brands that share their values and match their core beliefs. We believe that spending more time and heart on designing excellent products will help mankind and society become a better place.
Just like the way we make friends, customers and brands that share the same value ultimately come together to make the world a happier place!
Finding your perfect electric blanket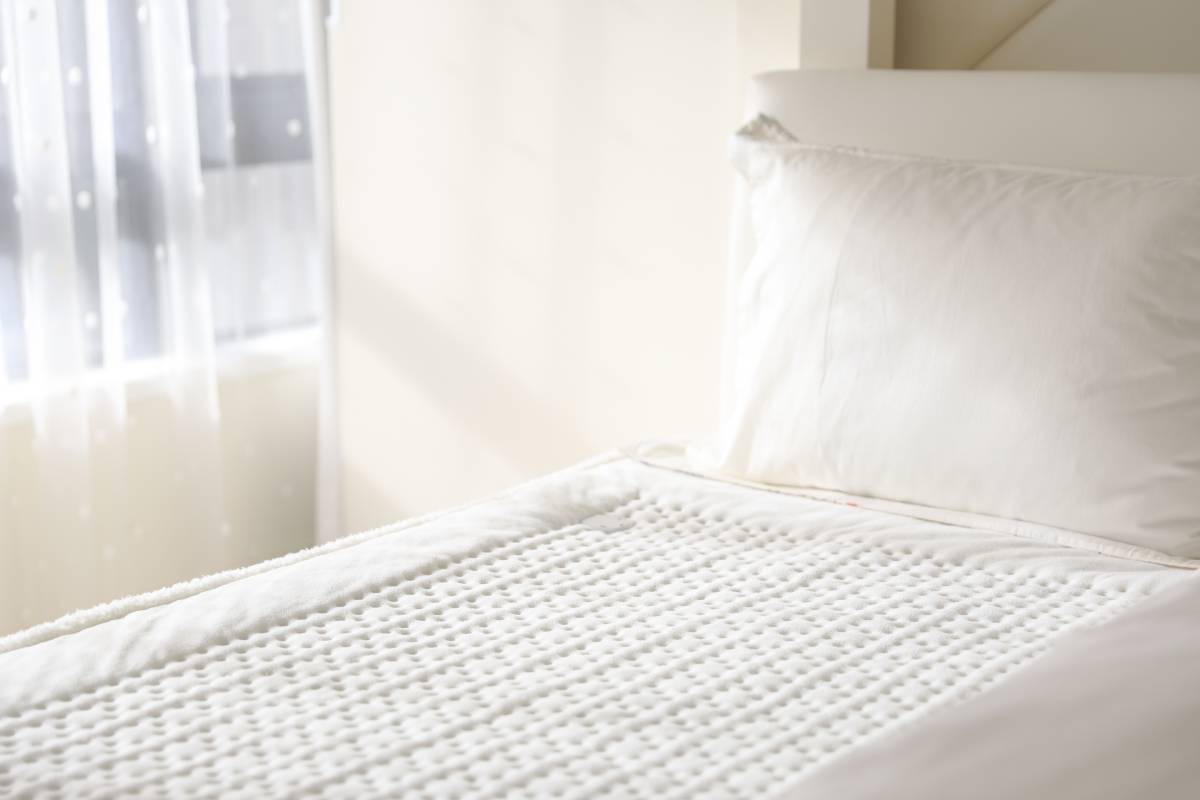 We sincerely hope all of the information above can help you find the perfect electric blanket. A good electric blanket can keep you happy and warm all day and all night long!
It is an excellent way to keep yourself warm in bed—especially your feet. Wellcare's unique electric underblanket offers natural airflow and higher temperature in the foot area. Overall, this will help people with cold feet and poor microcirculation to feel warmer faster.
Both underblankets and overblankets are great choices. Pick the one that best suits your needs and start enjoying a great night of sleep.
Read more:
What is revolutionary about 4D DWF Technology in Electric Blankets and Heating Pads?